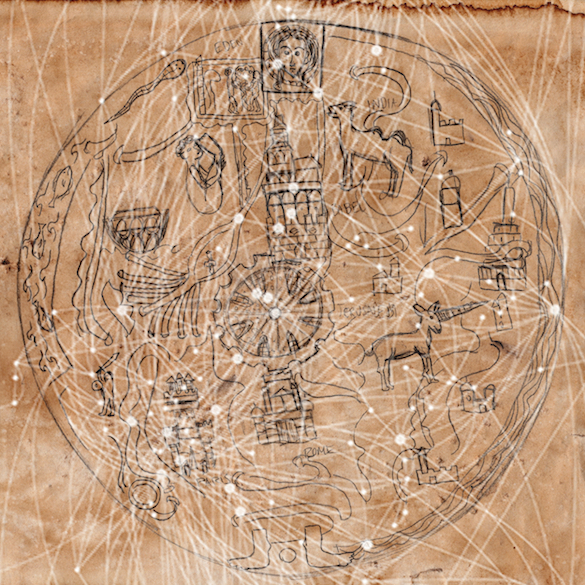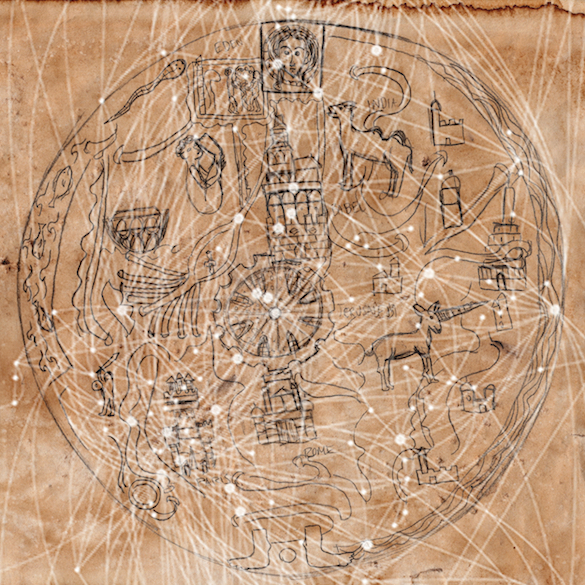 drøne – mappa mundi
Voice of the People
Horizontal Direction
Telegraphy Beacon
Echo of Hope
Shannon Volmet
[drøne # drøne1]
Limited Edition CD (500 copies)
You can hear an extract here
Release date: 13th October 2017
Now available on Bandcamp
Cover image & font by Nico Van Hoen
This the first CD released by drøne, after two vinyl albums on Anna von Hausswolff's label, Pomperipossa. In a 5" jacket with artwork and font by nico, who also provided the hand-written text for the vinyl artwork for the 2015 and 2016 releases, "Mappa Mundi" traces and describes audio surrounding and occupying the planet earth.
Workers toil in smithies, call signs and chants-at-prayer reveal attempts to order the chaos, which always remains one step ahead. Post-lapsarian for sure, but smoke signals and drums have morphed into the 'bing bong' of the attention-grabbing, mind-polluting PA system. The coded simplicity of the whistle ("Start!") has evolved into a more deliberate attempt to control rather than inform by explicit, structured language. Announcements have become commands; signs bark orders. Thus 'no' becomes a powerful rejection, rather than merely a preference; and no-ers are more easily to spot… "You're going the wrong way"! (To which the only sensitive and mature response is: "Good!")
Call signs, IDs, audio sigils and signatures all combine to describe a polluted, confusing atmosphere which threatens to leave us powerless and bewildered. "Decipher the sounds and you win the game! First prize is, guess what? You get to take the audio poison! Congratulations! You've lost!".
The first album, 'reversing into the future' drew this response from Lend Me Your Ears: "This thrilling piece – surely the most kinetic non-dancefloor record in an age". Anna herself wrote of the follow up record, 'a perfect blind': "I love everything about this release. Such a great presentation and exciting project! And most important: the music is sublime."
The Quietus wrote: "Last year's distinctive debut from drøne was likened to a hurtling journey. It's combination of field recordings, shortwave radio and modular synths possessed an excited, driving energy whose route was hitherto unexplored and destination unknowable. But with an expanded sound pool boasting instruments across the ages – from guitar, through pipe organ and strings to dulcimer and psaltery – its follow-up takes a sideways step into more cognizant, reflective pastures."